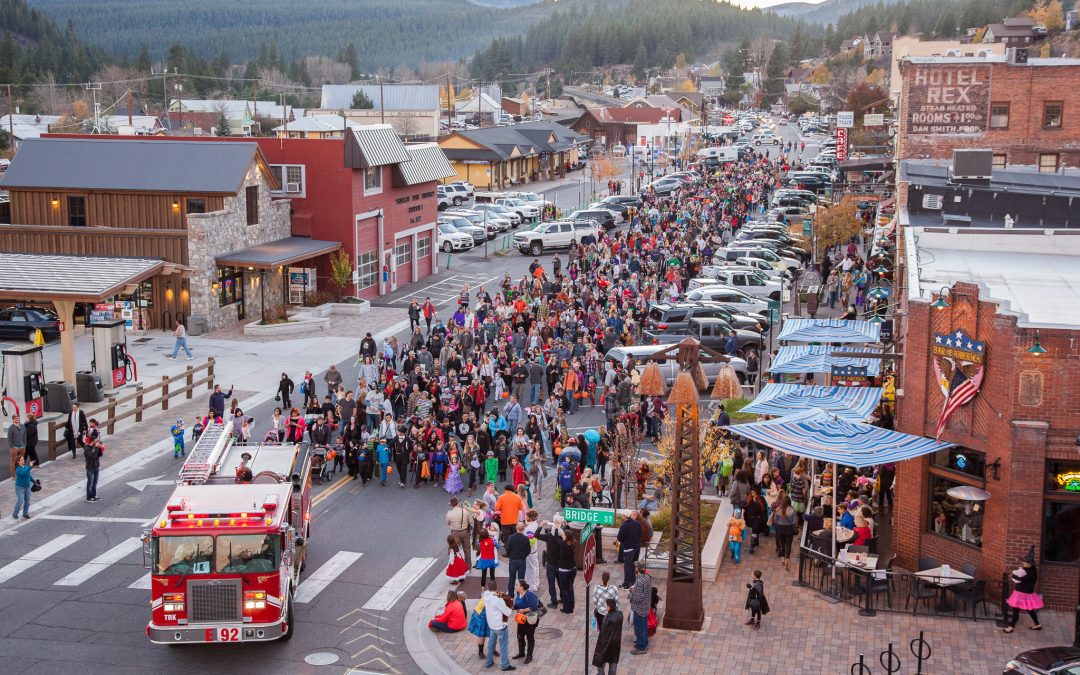 It's no secret that the Fourth will look a little different this year — not just in our backyard here in Truckee, but all over the country. Parades are canceled due to COVID-19 social distancing concerns, along with all fireworks shows. Additionally, personal fireworks (and campfires of all kinds) are banned due to fire prevention, but there's still plenty of ways to let freedom ring here in the mountains! Whether you're a part-time or full-time resident, please remember to adhere to local safety guidelines wherever you go: this includes maintaining social distancing and wearing a mask in public. We recommend doing plenty of research ahead of time so you know exactly what to expect. We've compiled a guide below to get you started.
Enjoy the View With a Brew
Is anything more patriotic than enjoying a stunning view with a cold one? We especially enjoy 1882's scenic patio overlooking the Truckee River, as well as the new expanded patio in front of Moody's. Looking for kid-friendly and dog-friendly locations? Coffeebar's downtown location is always a favorite, and be sure to stop by Little Truckee Ice Creamery, which boasts the only handmade ice cream in town (bonus: it's right across from Donner Lake!). Our friends at Visit Truckee compiled an excellent resource on patios, porches and decks now open in Truckee — check it out here.
4th of July Truckee Tahoe Honor Flyover
This special flyover will start tomorrow at 11 AM sharp. Warbirds will fly over Truckee and Tahoe to honor our nation's independence and frontline workers during the COVID-19 pandemic. The planned "parade in the sky" of military aircraft will feature the D-Day Squadron whose commemorative flyover missions continue throughout the nation. The squadron plans to fly six DC-3 (C-47s) historic warbirds over Truckee Tahoe communities as a special gift supported by the Truckee Tahoe Air Show and Truckee Airport District.

The flyover will cover Tahoe Forest Hospital, all four shores of Lake Tahoe, Barton Medical Center in South Lake Tahoe, Incline Village, Tahoe City, Squaw Valley and back to Truckee. The mission stretching 130 miles is expected to finish by 12:15 PM. More info can be found here.
Grill at Home
Avoid the crowds completely by enjoying a day with the family at home! Get all the staples at the brand new Raley's O-N-E Market which opened a week ago at Soaring Ranch by the Truckee Airport. With a focus on Organics, Nutrition and Education, this unique market is truly one of our new favorite spots in town, and we're so grateful to have it!
Interested in building the home of your dreams in the mountains? Shoot us a message and we'd be happy to answer any preliminary questions!
Hidden Spots by Water
Sure, you could claim a Donner dock early in the morning or camp out at Sand Harbor for the day, but it's always worth it to put in a little extra work and have more privacy — especially on one of the busiest weekends of the year. Here's a short list of some of our favorite lesser-known gems around the Truckee Tahoe region. Keep in mind, these spots will probably be on the busier side this weekend, too. Get there early and claim your spot!
Stampede Reservoir: Stampede is a little more off-the-beaten-path than Boca or Prosser, and it's a gorgeous reservoir popular for floating, fishing, jet skiing and all other water sports. As the reservoir is pretty low this summer, you won't have a lot of access to shade if you set up right at the water, so bring a tent or some kind of shade covering.
Long Lake: While it's gotten more popular in recent years, Long Lake — located at the base of Devil's Peak near Donner Summit — is one of our favorite alpine lakes that's reasonably accessible. Note: you will need a 4×4 vehicle to access the parking area. This is an easy spot to car camp for the night. Don't forget your bug spray, sunscreen and plenty of local brewskis!
Float the Truckee River: Yes, there will be many people floating and rafting the Truckee River this weekend, but our favorite spots to float are right here in Truckee itself. Start right at the Hirschdale overpass in Glenshire, and float downstream however long you like. You can purchase a cheap inflatable tube and pump at Rite Aid, and many other places in town.
Chimney Beach: Located not far from more well-known Sand Harbor on Tahoe's stunning east shore, Chimney Beach is a great alternative that only involves a short hike (not ideal if you're lugging a bunch of coolers and umbrellas, but perfect if you want to get in a little bit of exercise and have a backpack of stuff). Park at Secret Harbor Parking Lot and yes — get there early!
No matter how you celebrate, we wish you and your family a very happy (and safe!) Fourth of July weekend here in the mountains!