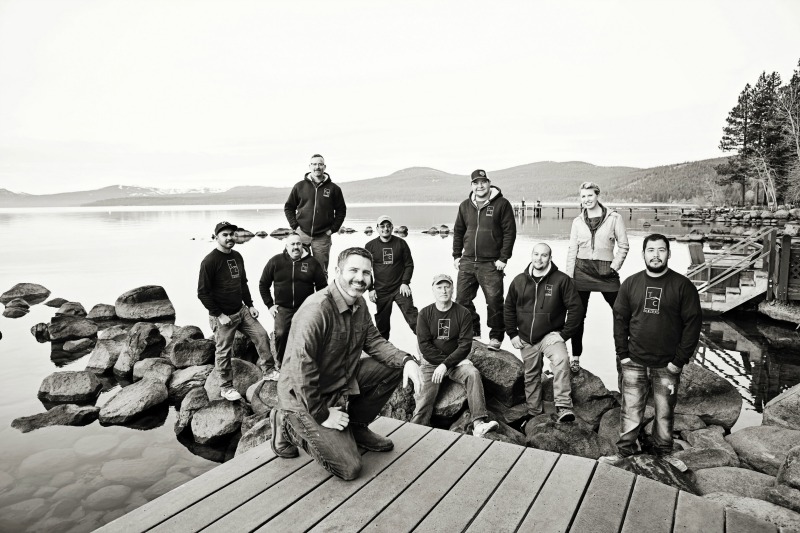 Timberline Construction was founded in 2007 by Christian Edwards. Located in the Tahoe-Truckee region of the Sierra Nevada Mountains, Timberline specializes in building custom homes and large scale renovations. In addition to the core team shown below, Timberline is proud to have strong relationships with local architects, engineers and the very best subcontractors to serve their clients at each and every stage of their job.

Christian Edwards
Owner
Christian founded Timberline Construction nearly 15 years ago because he wanted a company that embodied his personal values of integrity, honesty and partnership. These are the same values that continue to guide and inform all of Timberline's operations to this day.
Christian has over 18 years of construction management, development and building experience in residential and commercial construction, and he holds a Construction Management degree from Cal Poly San Luis Obispo. As Timberline's owner, Christian meticulously reviews client plans, bids and oversees the daily progress of each job. He is optimistic, cheerful, well organized and is an innovative problem solver.
Christian lives in Truckee with his wife and four children (who look forward to meeting every client when they have a chance!) Outside of work, Christian enjoys skiing, boating, camping and planning kid-sized construction projects with his older sons.

Alberto Mejia
Superintendent
Alberto is Timberline's most tenured Superintendent. He oversees all the moving parts of our job sites including labor, materials, subcontractors, scheduling and most importantly the safety of all involved. Alberto has gained hands on experience in all phases of residential construction over the course of his 20 year career in custom home building.
He's driven, hard working, organized and caring; he's the guy you definitely want on your team. His knowledge and passion for the construction process are unmatched and it certainly shows.
Alberto was born and raised in North Lake Tahoe. When he isn't working, you can find him spending time with his kids, making his wife happy by working on his own home, or watching his 49ers play.

Justin McKenna
Project Manager
Justin has been involved in construction since his high school days. Since that time, he's held an impressive range of positions including multiple trades, job site superintendent, estimator and project manager for mechanical and healthcare facility contractors. This experience combined with his strong communication skills and follow-through make him an incredible partner on any job.
Justin is passionate about custom home construction and is excited to return to residential building. He believes in the importance of teamwork and establishing common objectives between the home owners, general contractor and subcontractors at the onset of the project.
As a California native, Justin enjoys snowboarding, backpacking and spending time with his three children out on the water. He's also a youth sports coach who spent several years volunteering as the director of a youth sports organization for over 300 boys and girls.

Ryan Thomas
Project Manager
Ryan brings over 20 years of experience in all phases of custom home construction to his role as a Project Manager. He is detail oriented, calm under pressure and a rational problem solver. Ryan understands the unique needs of each project and client and has completed over 100 homes throughout his career.
He started out designing frames for a national timberframe company, while simultaneously building his own post and beam home in New England.
His business background, hands-on experience, and design expertise brought him to California to become a Regional Sales Manager for custom timberframe homes, and ultimately led him to a career as a custom home Project Manager.
Ryan grew up in New Jersey, attended college in Florida and settled in Northern California in 2005. He and his wife raised their sons here in the foothills and enjoy all the outdoor activities the Truckee-Tahoe area has to offer. When he's not working, he likes mountain biking, boating, and spending time working on various projects with his family.

Heather McKnight
Assistant Project Manager
Heather is a new addition to the Timberline team and has quickly picked up on the complexities of construction in the Sierra Nevada Mountains. Heather assists the Project Managers with all aspects of our projects including permitting, purchasing, subcontractor compliance and new project estimates. Her work ethic and natural problem solving ability keeps each project running smoothly and our clients and partners informed every step of the way.
In 2020, Heather decided to shift into the construction industry. She has since earned her Executive Education Construction Project Management certificate, complementing her deep experience in management and the service industry. Heather grew up in Dublin, CA and has been coming to the Tahoe area since she was a baby. Nowadays, in her free time you can find her snowboarding, practicing yoga or enjoying a beach picnic with her fiancé and dog Tessie, who is named after Lake Tahoe's most famous folklore creature "Tahoe Tessie"!
Jessica Pulskamp
Office Manager
Jessica manages all of Timberline's office operations and procedures including finance, billing and human resources. She also works closely with our Project Managers on contracts, permitting and material orders to ensure projects run smoothly and on schedule. She has deep knowledge of the moving parts of a construction project and strives to achieve fluidity between them, from inception to completion.
She brings 12+ years of experience in custom home building administration and also worked as a paralegal and a bookkeeper in previous roles. Jessica is detailed, hard working and has an eye for optimizing processes, typically resulting in greater efficiency and output.
Jessica grew up in Connecticut and spent some time in the Bay Area before eventually settling in Truckee. When she's not working, you'll find her enjoying live music, camping, hiking or skiing. She also feels blessed to have recently started a family in Truckee with the birth of her first child.

Amy Macosko
Marketing & New Client Management
Amy leads all marketing, public relations and new client communication for Timberline. She's excited to give new clients, the community and Truckee visitors an authentic understanding of Timberline Construction and what we stand for.
Prior to joining Timberline, she led brand and marketing campaigns for 15+ years while at Apple, Target, Stitch Fix and as an independent marketing consultant. Amy uses research, data and intuition to craft thoughtful work that delivers results. She's easy-going, personable and is passionate about making the process fun and inspiring for everyone involved. 
As a newcomer to the Truckee-Tahoe area, you'll find her exploring and experiencing new outdoor activities with her husband and their three young boys.